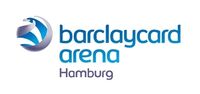 The Barclaycard Arena (originally known as the Color Line Arena and formerly known as O2 World Hamburg) is a multipurpose arena in Hamburg, Germany. It opened in 2002 and can hold up to 16,000 people (13,800 or 12,947 for sporting events). It is located at Altona Volkspark, adjacent to the football stadium Volksparkstadion and the new Volksbank Arena in Hamburg's western Bahrenfeld district.
The arena is primarily used for pop/rock concerts and was the home of handball club HSV Hamburg and ice hockey side Hamburg Freezers until both teams folded in 2016. The Barclaycard Arena is among the most modern venues in Europe.
This concert is part of the revamped Monster Ball Tour.
Addtional notes:
There were several techinal difficulties throughout the concert:
There were technical difficulties during "Vanity". The microphone turned off before the second chorus, and continued as such throughout the rest of the song.
Glitter Way did not light up.
During "Telephone", Gaga performed a wrong dance step and fell as she were leaving the stage.
Due a blackout in her dressing room, Gaga did not change into her usual catsuit for "Poker Face", instead, she she stayed with the Monster/Teeth/Alejandro outfit of the 2010 performances. She just add a hood, leather jacket, panties and belt, and handcuffs.
During "Paparazzi" The Angler Fish's lights didn't turn on immediately and also blinked several times after they had come on.
"The Fame" was not performed
Set list
Part of artRAVE: The ARTPOP Ball.
Part of the Joanne World Tour.
The show was originally planned to take place on September 29, 2017 but was postponed from original events to January 24, 2018 due to hospitalization for body pain caused by fibromyalgia.
Set list:
Link
Community content is available under
CC-BY-SA
unless otherwise noted.