A list of events which occurred on the 27th of April.
2009

Lady Gaga performed "Just Dance", and the acoustic renditions of "Paparazzi", "Poker Face", and "Eh, Eh (Nothing Else I Can Say)", at Fun Radio, on 93.1.
2010

"http://www.youtube.com/watch?v=YrnTY9_KMQg FAVORITE BAND "We Are The World" saw them live sick, video amazing" 1:26 PM via web
"IS #Alejandro TRENDING???!! GOOO LITTLE MONSTERS!!!!!!" 1:32 PM via web
"#monsterrevenge too?? You're on fire today! I'm really gonna kick some ass in rehearsal now, got u in my heart through every move + breath" 2:39 PM via OpenBeak
2011

Lady Gaga performed at the Quicken Loans Arena in Cleveland, Ohio, for The Monster Ball Tour.
"Whoever is hacking my Twitter must answer to 10 million monsters and Twitter police. #Don'tMakeMeCallTheApostles" 27 Apr via web
"GAGAVISION no.44 momentarily. New unheard track revealed. Need an editing catheter!" 11:41 PM via Twitter for BlackBerry®
2012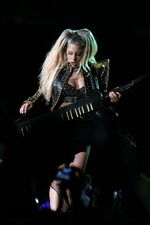 "RT @Versace: At the Born This Way Ball 2012 which is taking place in Seoul @ladygaga and all 12 her dancers are wearing custom made Versace!" 6:20 PM via Twitter for iPad
"I could barely sleep last night. It was the 2nd highest attendance of fans in the History of concerts in Korea. Photo: pic.twitter.com/6EltATYz" 10:54 PM via Twitter for iPad
"Yes, it was :) RT @mattyw22: @ladygaga who's first ?... Gotta be MJ ;) xx" 10:59 PM via Twitter for iPad
"I'm so grateful for all of you, thank you monsters. Last night was like being completely prepared for a moment you could never prepare for." 11:22 PM via Twitter for iPad
2013
Gaga was seen out in Chicago, Illinois.
2014
Gaga was seen out in Chicago, Illinois.
2015
Gaga was seen leaving an airport in Los Angeles, California.
2018

"So proud of my mom and The Born This Way Foundation. We can all learn more about suicide prevention and mental health awareness."
https://twitter.com/BTWFoundation/status/989854528664109056" via Twitter
"Words from me that my mom spoke on my behalf receiving a Didi Hirsch Erasing the Stigma Leadership Award. #ErasingTheStigma. The best way we can be kind is through validation of others feelings. #ChannelKindness #BTWFoundation" via Twitter

"It's the 6 year anniversary of the Born This Way Ball. Such a special time and such a special show that I will never forget. At the heart of my art there is a message. It reads: just love yourself, and you're set. 🖤👑" via Twitter
Community content is available under
CC-BY-SA
unless otherwise noted.