Lady Gaga had a goodbye party with her lowersides friends of New York from a Bar. The next day she flew to Los Angeles to meet RedOne in the studio and still hungover, she wrote Just Dance in ten minutes as "A happy record". In a week, they wrote together Poker face and LoveGame. After that, she signed a recording deal with Interscope and began officially the production of her Debut album.
Also, she was sent to write songs with Akon for Tami Chynn, an artist signed to Konvict Muzik in Atlanta. For the first time, Akon recognized her vocal abilities during her singing of a reference vocal to one of his tracks in the studio.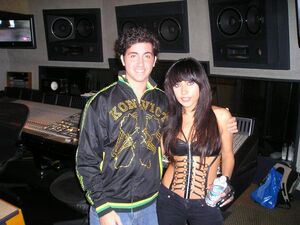 "When we were working, Akon would say, 'Get in the booth and cut these vocals,' and he'd always tell me I could really sing. So he decided he wanted to be a part of my music," Gaga said about working with Akon, who ultimately convinced Interscope-Geffen-A&M Chairman and CEO Jimmy Iovine to sign her to a joint deal with Konlive. "He spoke to Jimmy, and we decided to become a big family." —Lady Gaga
As a result, she was commissioned by Interscope to write for labelmates New Kids on the Block with RedOne, Nicole Scherzinger's solo album and the Pussycat Dolls with Rodney "Darkchild" Jerkins and some others with Akon. Two of hers songs was picked by Britney Spears and recorded but only one was released, "Quicksand" as a bonus track in Europe. Gaga also joined the roster of Cherrytree Records, an Interscope imprint established by producer and songwriter Martin Kierszenbaum, after co-writing four songs with Kierszenbaum.
Community content is available under
CC-BY-SA
unless otherwise noted.